Table of Contents

Introduction:
Black Friday and Cyber Monday sales are upon us, and if you're anything like me, you're probably already scouting for the best Black Friday Gun Safe Sales. A bit of preparation and some education on what is a good deal, how not to get fooled into shopping mania, and where to find the best deals can help you get the best discount when you select safes that meet your needs.
I know it's so easy to postpone buying a gun safe because the good ones I want are so darn expensive. But if you're in the market for a top-notch gun safe or fire safe, you're in for a treat. Black Friday is the perfect time to dive into the world of gun safes, safe doors, fire safes, and business safes and score some of the best gun safe deals.
After hours of research, I've compiled all the main listings of Black Friday deals so you don't have to. I have also listed some insider tips on how to get the best deals on safes for your home or office and shopping advice so that you don't get duped by marketing tactics.
Let's dive in.
Finding the Best Gun Safe Black Friday deals
There are five main resources to check out when searching for Black Friday deals on gun safes:
Online stores specializing in safes, vault doors, and security products.

Manufacturers of popular brands that sell directly to customers.

Mass market retailers.

Blog and review sites, including Black Friday sites.


Featured Deals
Cabela's: Biometric personal safe for $69.98, a savings of $59.99

Tractor Supply Company: Liberty Safe Revere 64 Gun Safe with a 60-minute fire rating for $1,399.99

Redfield: 36-gun safe for $599

Safe & Vault Store: Save 15% on select gun safes with coupon code BROWNING15

Menards: Sentinel by Stack On Gun safe on sale for $499

Bass pro: Cabelas $900 34 gun safe on sale for $500

Liberty Gun Safe Sale: Best deals on Liberty Gun Safes on Black Friday

The Safe Keeper: Best deals on gun safes on Black Friday
Where To Find the Best Deals


Online Specialty Stores
Manufacturers and Brands
Browning Prosteel Safes

Stack-On Safes
Mass Market Retailers
Blogs and Magazines

Black Friday Sites
Black Friday Shopping Tips
Having worked in online retail, I have a simple tip for Black Friday: the best deal is to buy items you plan on buying anyway. Take stock of what you would plan to buy for gifts and items you need to replace (that old Air Fryer? that worn-out pair of sneakers?) and make a list.
Once you have a list, you have two choices - find the lowest possible price for the item, or use Black Friday deals to buy a better brand that would have normally been beyond your budget.
Some more tips:


Is a Black Friday deal worth it?
Yes. Black Friday deals are worth it because the discounts are a one-a-year deal that is often the best deal on new products. However, I have found that the selection is limited and often not what I want. At USASafeAndVault.com we researched the different options customers have for deals so you can compare the deals with other discount levels based on the condition of the product.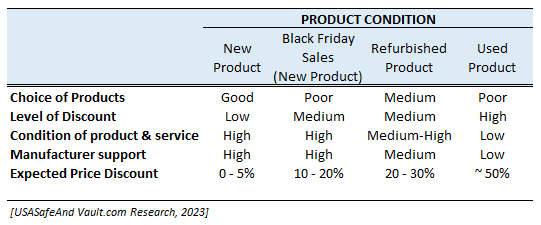 Things I Always Look Out For
I ALWAYS have a checklist when I'm on the hunt during Black Friday. Do I want an electronic lock for that quick access? How about heat protection? Maybe I need something spacious for both my handguns and larger firearms. Whatever's on your list, I bet there's a deal waiting for you.


How to prepare for Black Friday Deals
If you're looking to purchase a gun safe on Black Friday, here are some steps you can consider:
Research: Before Black Friday arrives, research different types of gun safes, their features, sizes, and brands. Understand your specific needs in terms of storage capacity, fire resistance, and security features.

Create a Budget: Set a budget for the gun safe you're interested in. Black Friday deals can vary, so having a clear budget in mind will help you make an informed decision.

Compare Prices: In the weeks leading up to Black Friday, monitor prices of gun safes from various retailers. This will help you identify genuine discounts on the day itself.

Subscribe to Newsletters: Subscribe to newsletters or follow retailers' social media accounts specializing in firearm-related products. This way, you can receive notifications about upcoming Black Friday deals.

Check Online and In-Store: Many retailers offer both online and in-store Black Friday deals. Decide whether you prefer the convenience of online shopping or visiting physical stores to see the safes in person.

Read Reviews: Check out reviews and ratings of the gun safes you're interested in to get an idea of their quality and performance from other customers.

Stay Safe: If you plan to shop in-store, remember that Black Friday shopping can get competitive and crowded. Be sure to follow safety guidelines and respect the rules and regulations of the store.

Verify Warranty and Return Policies: Ensure that the gun safe you're purchasing comes with a warranty and a clear return policy in case there are any issues.

Purchase Early: Black Friday deals can sometimes start earlier than the actual day. Keep an eye out for pre-Black Friday sales or early-bird deals.
FAQs (What Readers Want to Know)
What exactly is Black Friday?
Black Friday is an annual shopping event that originated in the United States. It falls on the day after Thanksgiving and kicks off the holiday shopping season. Customers expect to find massive discounts, limited-time deals, and frenzied crowds flocking to retail stores. This is a high promotion period for businesses with substantial price reductions on a wide range of products, including electronics, clothing, furniture, and more.
The term "Black Friday" started in the 1960s and refers to the notion that retailers could expect their financial records to move from being "in the red" (for losses incurred) to "in the black" (representing profits) due to the high sales volume during this time. In reality, many retailers sell some products at break-even (i.e. no profit) or very slim margins. Over the years, Black Friday has gained tremendous popularity and has become synonymous with doorbuster sales and competitive shopping.
The concept has also been embraced by e-commerce retailers who now offer exclusive online deals and promotions, allowing customers to enjoy the discounts from the comfort of their homes and avoid fighting crowds making it to the physical stores. Often this extended online discounting continues with what is known as Cyber Monday, which takes place on the Monday following Black Friday and focuses primarily on online sales.


Why a Gun Safe is a Must-Have
Let's get real for a second. A gun safe isn't just a fancy box to store your firearms. It's about keeping our families, our homes, and ourselves safe. Whether you've got a collection of pistols, handguns, or other firearms, a gun safe is your best friend in ensuring they're kept secure. With Black Friday deals, you'll be surprised how affordable gun safe can get.


Are cheap gun safes worth it?
No. Cheap gun safes are usually not worth it, because they are flimsy and often don't last. If they malfunction, it might cost you more in lost items (and sometimes life and well-being!) than the savings of a cheaper product.
That said, we believe that using any safe is better than no safe, and in special cases, a cheap safe is a good idea. I think a cheap safe would be a great second safe for additional protection in a safe room, for example.


Do gun safes need to be climate-controlled?
Yes. Almost always, the humidity in a gun safe can be less than the optimal 40-50% relative humidity. If you don't keep the humidity controlled, it can encourage rust on your guns, mold, and mildew on the fabric lining your safe, and wood surfaces like the stock of a firearm. If you store paper documents, a humid environment can discolor paper documents.


Does Rural King have Black Friday?
Yes, Rural King has an official Black Friday deals page where they post their best Black Friday deals. Rural King's Black Friday ad offers deals on farm supplies, tools, equipment for the outdoors, and more. You can also find discounts on items that could make great gifts.
In 2022, Rural King's Black Friday deals were available from November 23 through November 27. You could shop the specials in-store or online at ruralking.com.